Akahigedo in English
Welcome to Akahigedo HP!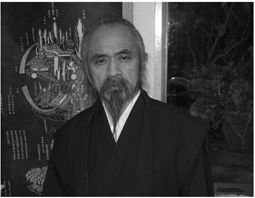 Welcome to Akahigedo HP!
Akahigedo is a comprehensive clinic for oriental medicine established more than 30 years ago by Japan's acclaimed master practitioner Takeuchi Nobuyuki. The name "Akahige Do", meaning the pavilion of the red beard, refers to Akira Kurosawa's legendary film depicting the compassionate Edo Period doctor of the same name who, similar in the classical spirit of Robin Hood, attended to the medical care of the needy.
Traditional Oriental Medicine is based on a holistic vision of the body and involves multiple techniques of natural healing :
Acupuncture, Shiatsu, Acupressure and Chiropractic Stretching, Cupping, Moxibustion, Oriental Pharmacology and Supplements, Dietetics and Nutrition, Qi-kong Movement and Qi-Healing
The principle diagnosis of the patient is based on observation, pulse reading, tongue reading and careful monitoring of the patient's overall condition. Blood and microscopic capillary tests may be conducted, with results displayed on a monitor and carefully explained to the patient.
Health is an expression of inner balance ; illness is the result of imbalance. The primary goal of Oriental Medicine is to locate the root cause of an imbalance, and to treat the disorder by stimulating the body's vital functions and immune system. Patients are able to achieve their own balance through internal and external healing. The holistic approach provides cures for stress-related illnesses, back and neck pains, headaches and migraines, as well as other diseases such as : gynecological or sexual conditions ; cardiovascular problems ; diabetes ; cancer, and the side effects of chemotherapy ; dermatological or nervous system conditions, and numerous others.
At Akahigedo, each patient is treated as the unique individual he is, with one's particular life experiences, traumas and habits needing to be awakened to change. The Akahigedo Clinic offers the possibility to re-balance the body in the case of illness towards a transformation into a new condition of health, as well as regimens for the prevention of disease and the maintenance of wellness.
Some of our personnel are almost fluent in English, and we welcome your inquiries at all times. We shall be most pleased to respond to any of your questions.
We look forward to your visit!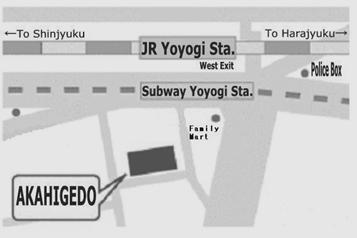 1 minute walking from Yoyogi station on JR line and Oedo subway line
3 minutes walking from Minami-shinjyuku station on Odakyu line
        Open Hour
Mon.〜Fri.       9:00〜19:00
Saturday        9:00〜17:00
Holiday         9:00〜15:00
Sunday         Closed
       Treatment Fee
Diagnosis First Fee    +\3,100
Treatment Fee        \8,300 (in 80min.)
Special Treatment Fee  \12,500 (in 120min.)
We don't take credit card.